Event Manager
The Event Manager provides several features. Click on the buttons to learn more about each feature.
For a perfect event organization an online subscriber management and an online guest management is part of the standard today. With the Event Manger you can send invitations by e-mail easily and conveniently. Your guests can register online and they receive a confirmation of their registration automatically. You can assign personalized place cards for your guests with our online seating and of course check in quickly and easily using QR-code scanning. All online layouts in shape, color and font are specified by you. Of course, you have 24/7 access to the login status of your guests.
The Event Manager also offers you the possibility of ticket sale if you have not only invited, but also paying guests.
The System can not only organize your guests but also your employees online. Employees can be detected online and corresponding identity cards can be provided.
Also for online surveys(customer surveys) the Event Manager offers you convenient solutions including analysis tables.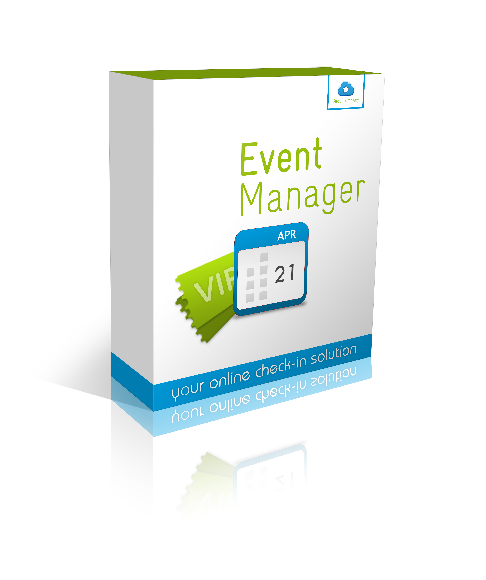 Name of event page / How should we call the login page?
The name of the event should be used for the name of the login page if possible. Here you have the choice among:
Personal domain name with automatical forward to the event page
Example: mymovie-launch.de forwards to myvents.guest-company.com/event/ mymovie-launch. The new address also appears in the browser of the visitor.
Personal domain name without appearance of the address forwarded
Example: mymovie-launch.de forwards to myvents.guest-company.com/event/ mymovie-launch, but the address shown in the browser of the visitor remains: mymovie-launch.de
Integration into an existing website (company website)
Of course the registration system can be integrated into your existing website. Example: To register for a seminar the guest clicks on the button "Registration for the seminar here". Then he will be forwarded automatically to the login form.
Layout login page / What will have to be shown?
The login page can be designed according to your preferences. Of course, your corporate identity (color, font) ca be adopted. In addition, it can be displayed:
Logos
Photos / Posters
Clips / Trailers
PDF files etc. with driving directions or similar
Invitation text / event description
Wallpaper
Links (hotels, attractions, etc.)
Language support / Between which languages should the guest be able to choose?
If you want to invite international guests they should have the possibility to register in their own language. You decide between how many languages the guest can choose.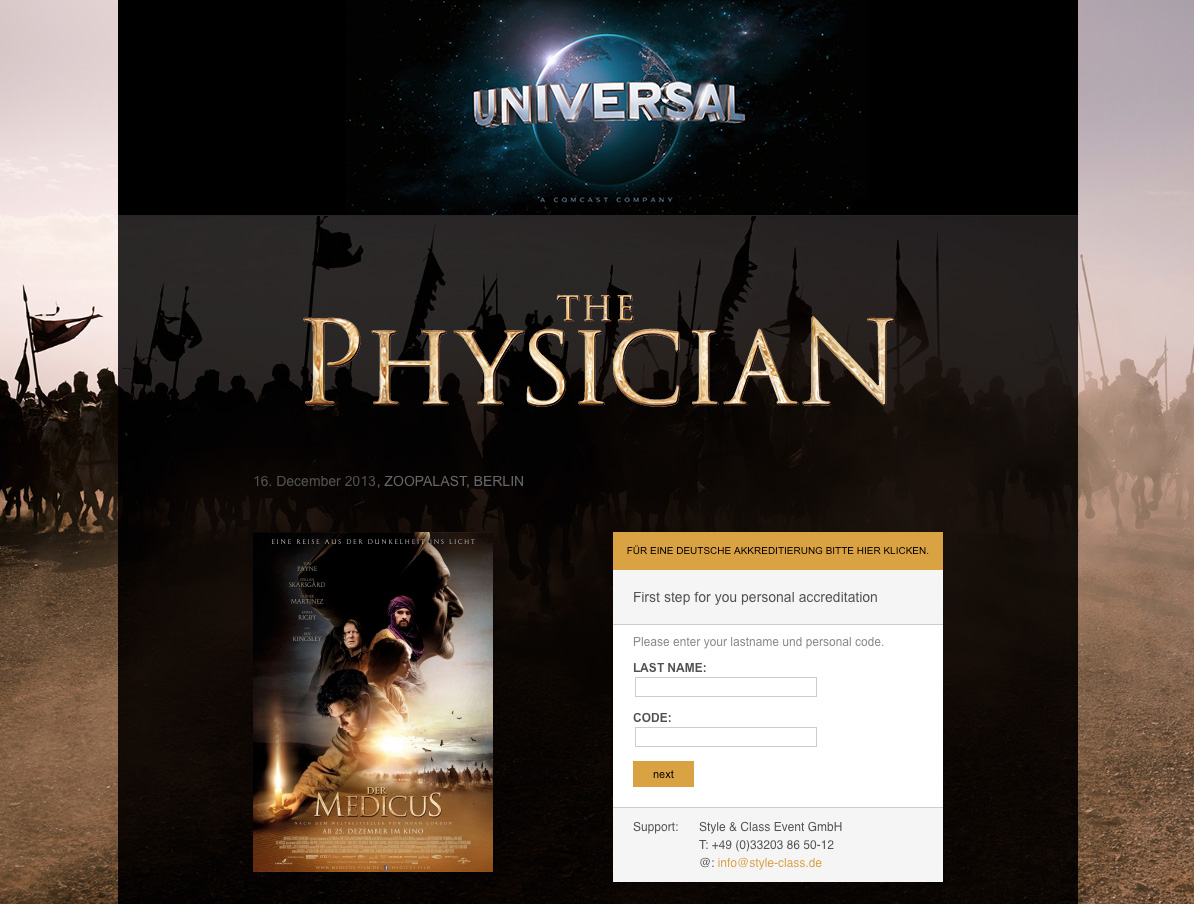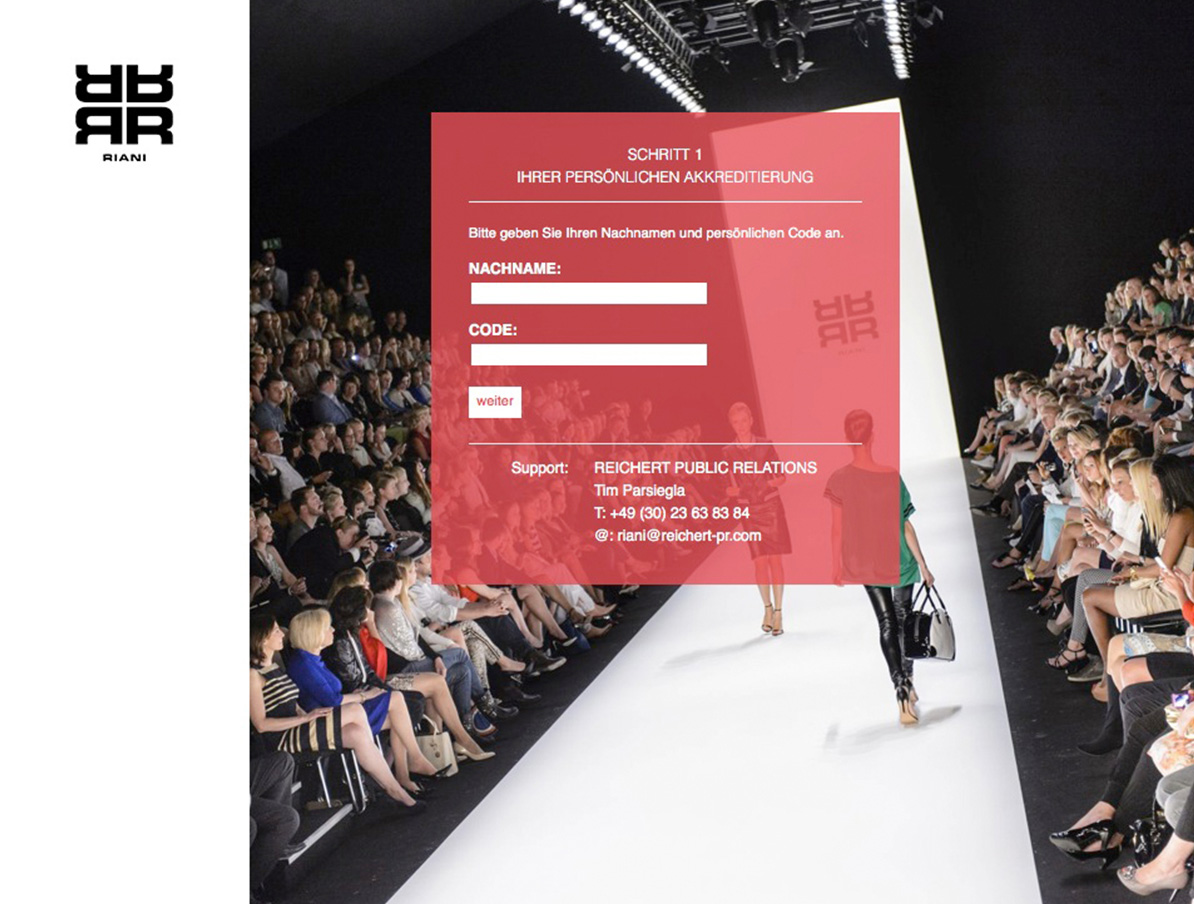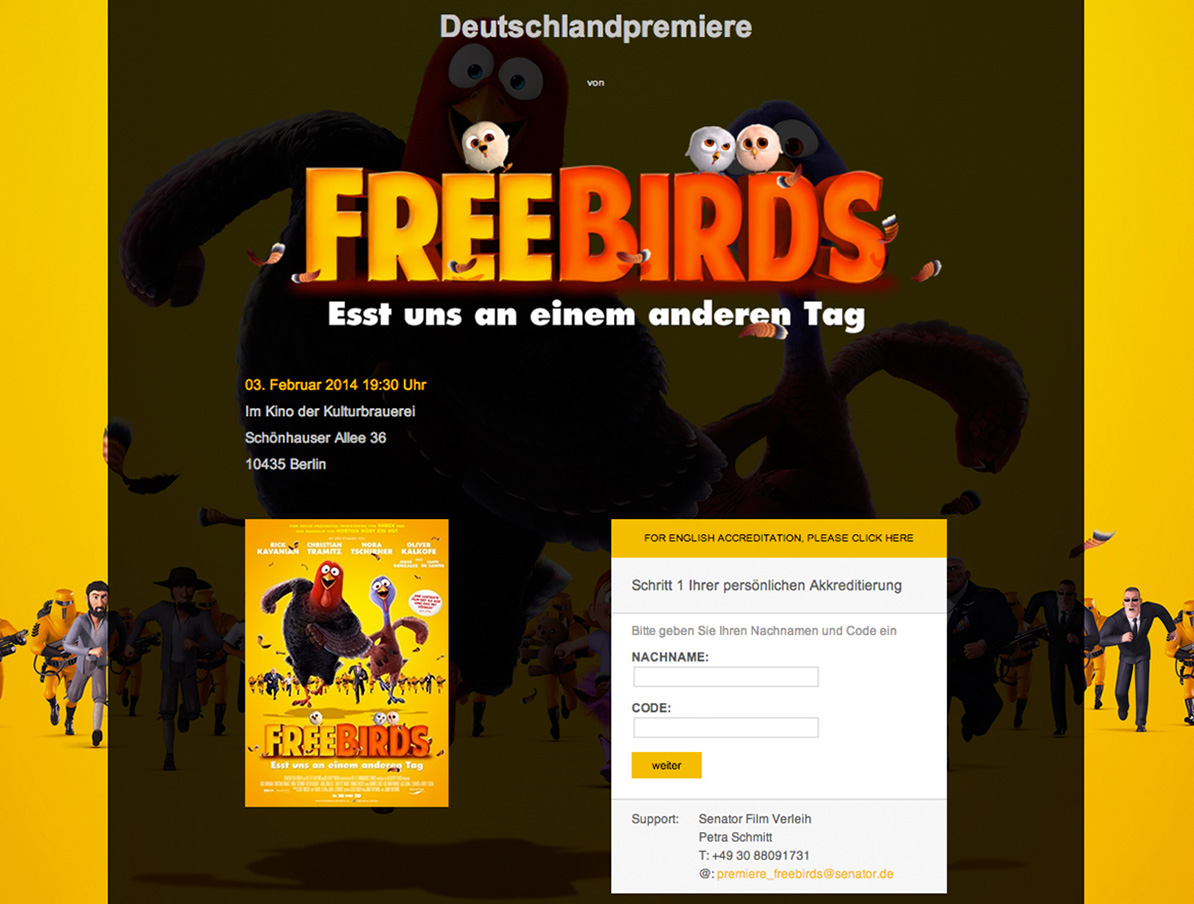 How do you want to send your invitations? Printed or by e-mail?
You can send your printed invitations as usual. It is only important that each guest gets his individual personal code combined with his invitation. This code can either be printed on the invitation directly or on an insert alternatively. You can customize the insert individually using the Event Manager and print it with the codes personalized.
You want to send your invitations by e-mail?
You can easily organize this through the system. We recommend the sending of HTML mails in this case. The access code for the guest is assigned automatically. It is also possible to send a PDF file attached to the e-mail.
Reminder / You want to remember your guests to register?
The Event Manager enables you to send reminder e-mails quickly and easily to those who have not responded back yet.
Stragglers / You want to invite additional guests after the first mailing of invitations?
No problem - it is always possible to expand the guest list and invite guests again.
Import your guests easily from a XLS file.
Before uploading the table should contain all information pertaining to your guests:
Salutation
First and last name
Address details
Number of accompaniments
And other information as described in "guest queries"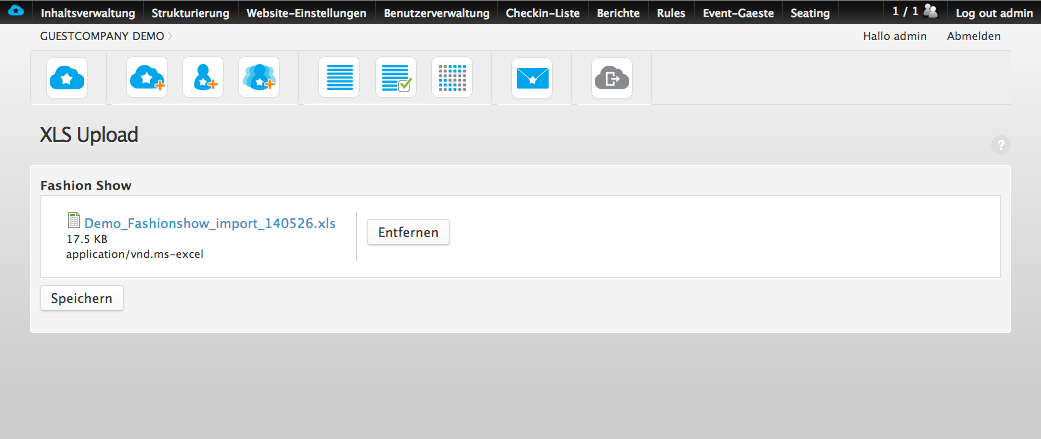 Guest queries / Which information do you need in order to prepare your event?
Each event is planned individually. You want to find out how many vegetarians are among your guests? You need the information, how many guests will arrive by car and need a parking space? Ask your guests! They can, for example, reply in a free text entry field, or you enter the possible responses and your guests only need to put a check mark. Of course the Event Manager supports you for a perfect travel and hotel coordination.
In order to check address data, it is also possible to make the available data visible for each guest, so that he can provide the correct information by himself even when the contact data changes.
Number of accompaniments / How many companions may your guest bring along?
You can specify for each guest individually, whether accompaniments are allowed. You determine which guest may come to your event alone, in pairs, in threes or for example to fourth.
Guest categories / You invite guests who should get different queries?
You can assign different categories to your guests if necessary. This may occur when, for example, only a certain part of your guests will be invited to a pre-reception. Or only a certain group of guests should be asked whether a shuttle service is desired, or similar.
Location allocation / You want to distribute your guests in various rooms?
If you provide your guests with a variety of meeting rooms / ball rooms and you want to distribute your guests directly during the registration, it is of course possible.
Confirmation of registration / How should we call the name of the mail sender?
After registration, the guest will receive a confirmation by e-mail immediately. You define the name of the mail sender. You can, for example, take the e-mail address of your company.
You can also decide whether only the guest should receive a confirmation e-mail, or whether you should receive a confirmation to your mail-address as well.
The management of your guests is an important part of the guest management. The Event Manager offers you the following options:
Instant overview and sorting of your events
Instant overview of the status of the registrations, cancellations, guests who did not respond back yet
Simple and fast option to sort by last name, company, source information
Export all data with one click
Easily add guests at reloads
Search functions for fast retrieval of certain guests for changes in data
Quick overview and sorting options for all guest queries (hotel, travel etc.)
Comment fields per guest for internal information
You can specify the seating available to you for blocks, rows of seats and courts individually and assign your guests quickly and easily.
Once the seating plan is established you can print your individualized place cards personalized for each guest. Seat changes at the last moment are no problem - you always have access to your data and can react quickly and flexibly.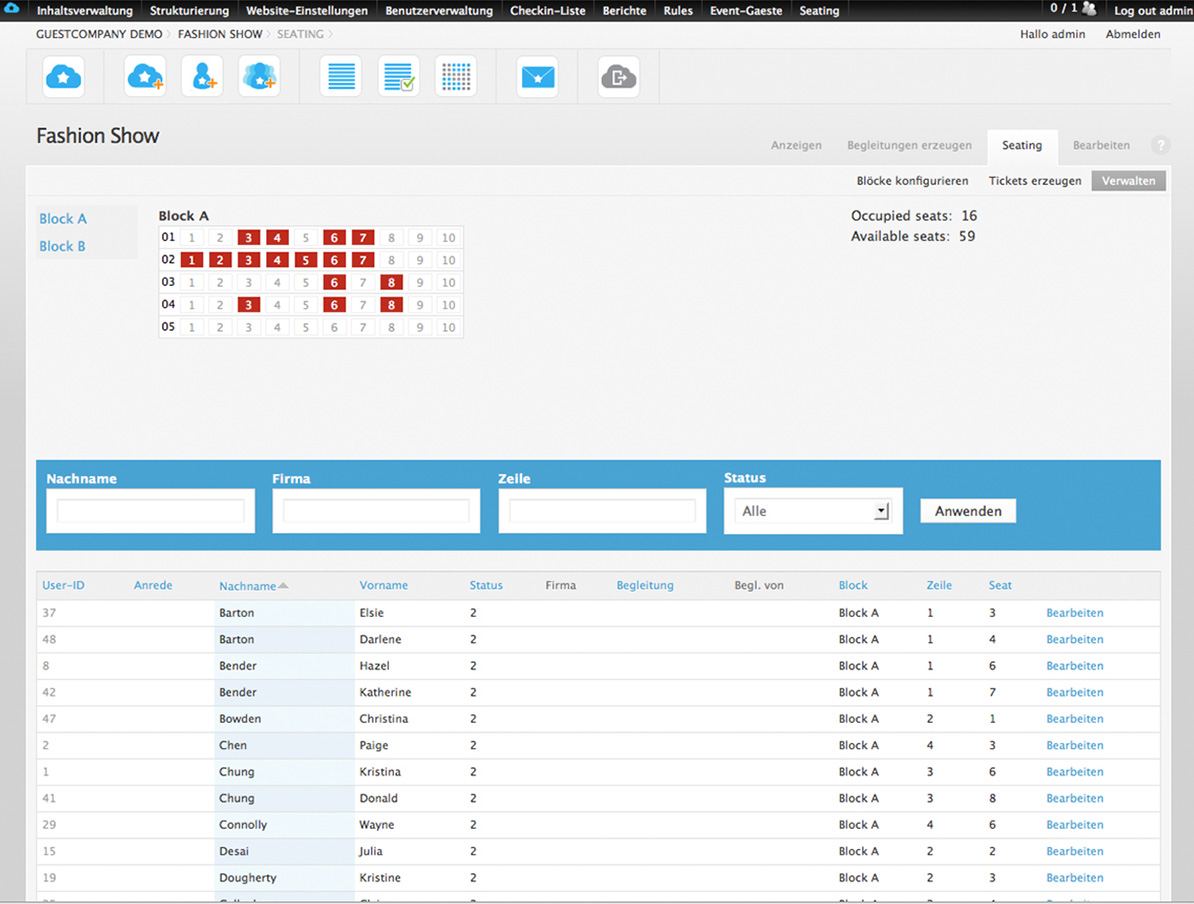 Once you have "set" your guests online, the seating cards can easily and conveniently be configured, layed out and personalized printed or sent by e-mail - according to your preferences.
Of course, the same applies to the creation of employee IDs.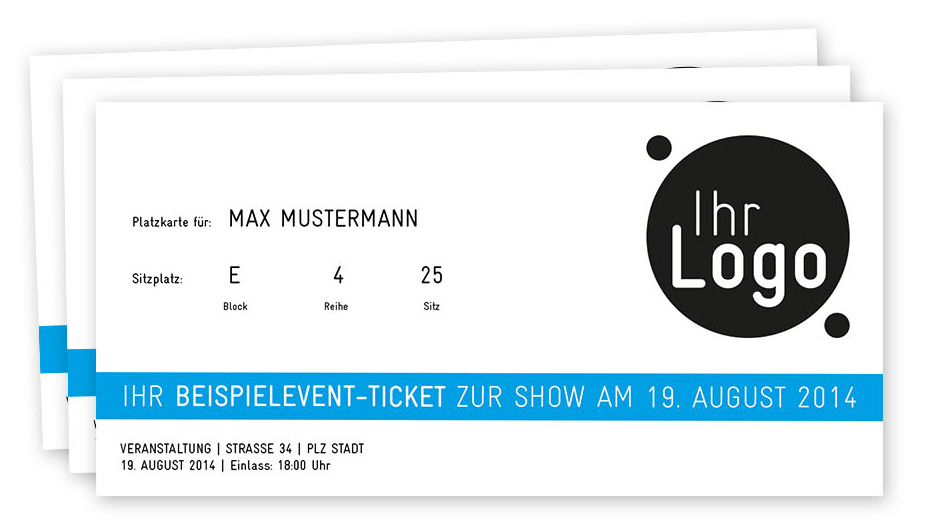 For check-in of your guests, you have several options. You choose among:
Printout of lists of names for the technology-free check-in
View the list of names and check-in via tablet / smartphone / PC
Usage of check-in with QR code scanner via Tablet / Smartphone
Check-in with preconfigured hardware via a local web server and local closed Wi-Fi with password protection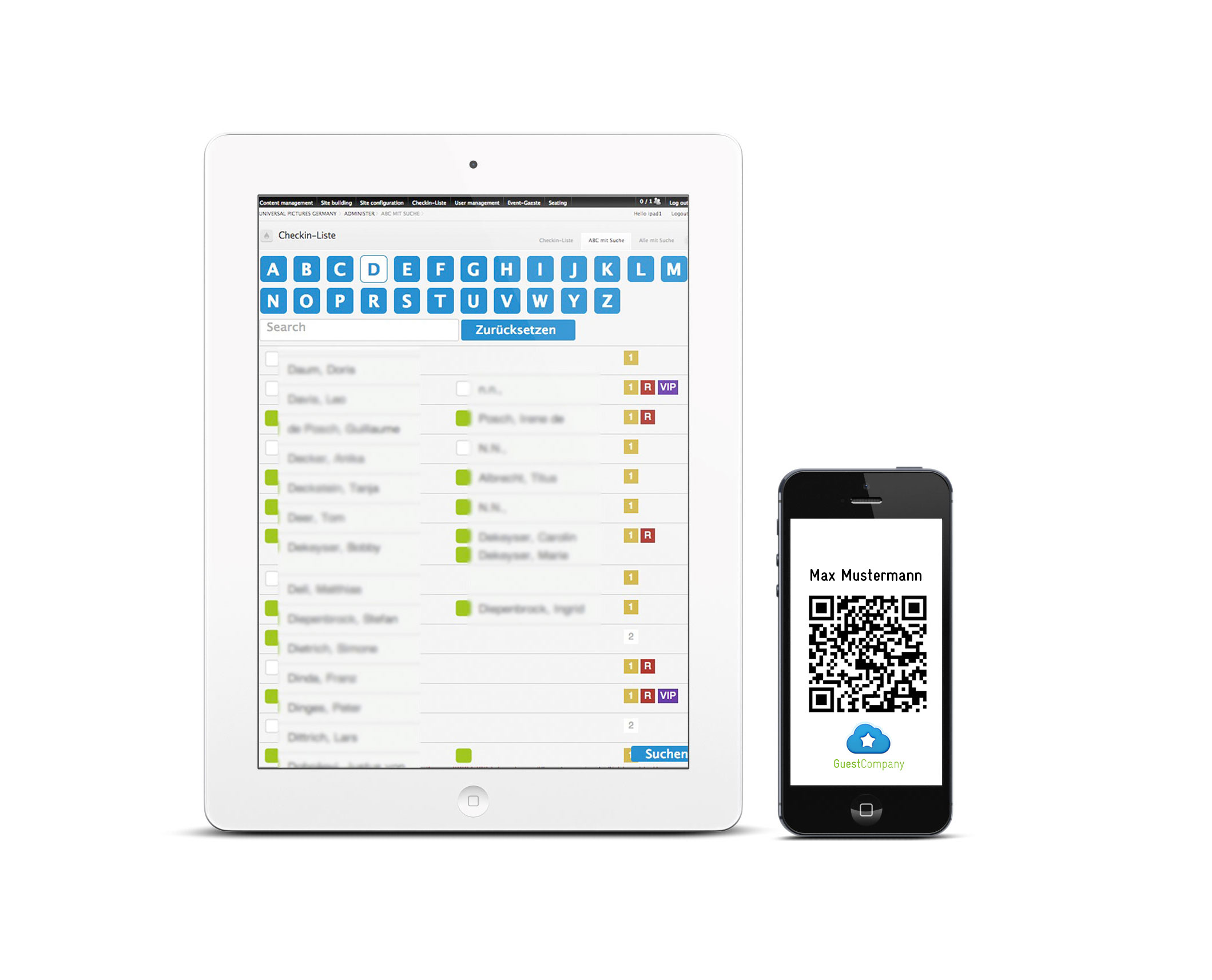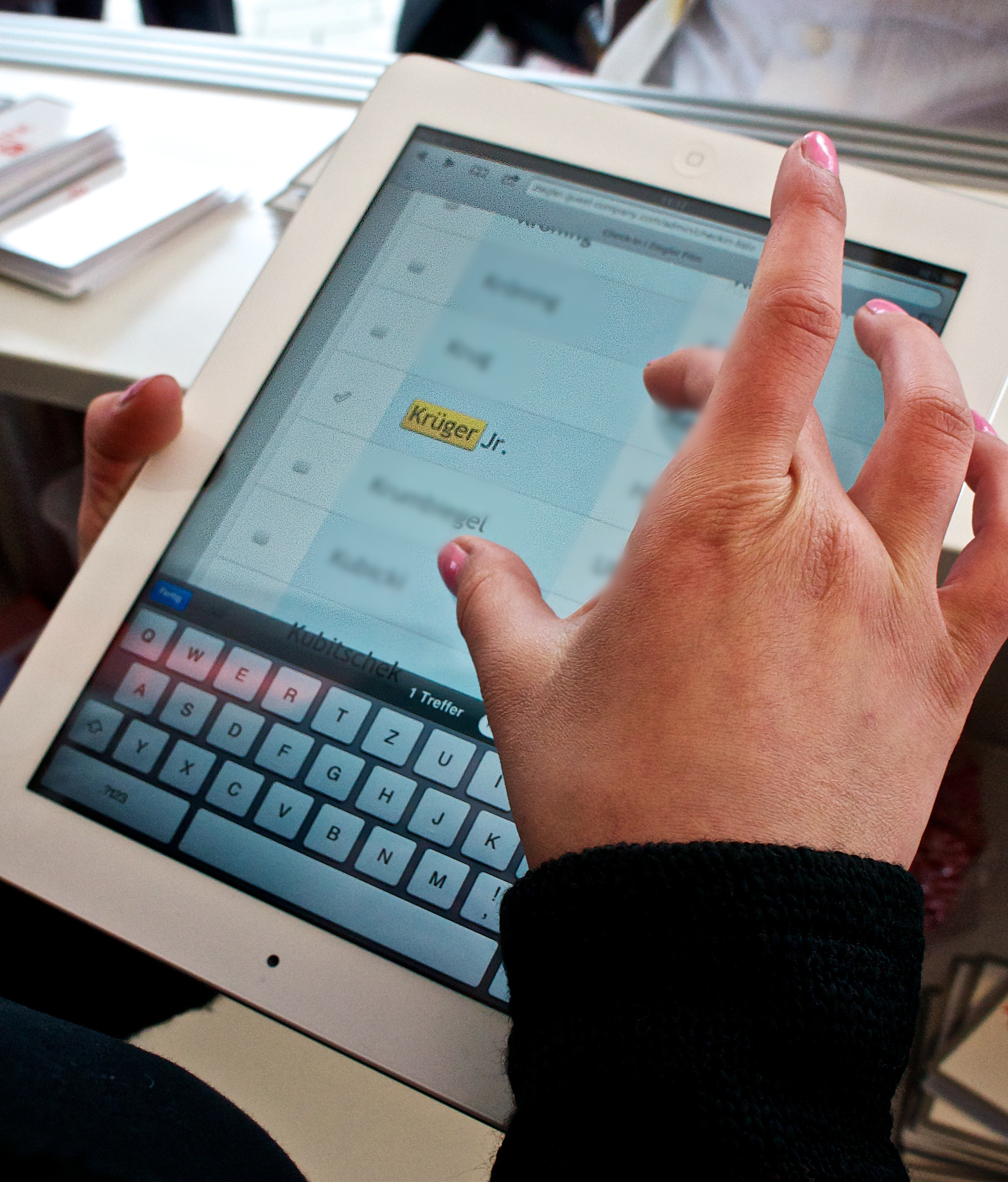 There are not only invited guests attending your event and you would also like to sell tickets to other guests? No problem for the Event Manager. You define ticket categories and pricing, which can be selected by your guest online. Payment is easily accessible via Paypal, credit card or payment in advance (bank transfer). The Event Manager automatically takes all guest information combined to the payments in his own shop overview, where all cash receipts with status information, such as "payment completed" or "payment still open" can be seen immediately. Your paying guest receives an invoice by the system automatically. The tickets can be sent by post or e-mail with QR code for a quick check-in.
Via the same internet address that your guests have registered for the event online, you can provide your guests with images to download as a memento after the event. It is also possible to provide a video of the event online, so your guests can reminisce your wonderful event once again.
The Event Manager enables you to perform online customer surveys quickly and easily and represent the expenditure information / answers compact and clear. You decide whether your customer can respond in multiple choice tests, or if he have to enter a free text - or a mix of both. The layout of the questionnaire can be personalized in text, logos, images and videos.
All recorded data / survey results are available immediately online as a table / analysis. Of course, you can export them as XLS / CVS at any time.
Usually on the organization of an event many different trades are involved with their respective employees. In some cases it is necessary that they have to begin with the structure in the event location several days or even weeks before the event.
For this purpose, the Event Manager offers the possibility of an employee notification system. The various trades get a link as well as individual access codes for online registration of their employees. All employees will be recorded online by name.
Likewise you can be informed on which days and / or what times which employee will be there. In addition, you can create custom queries - for example, the question of parking etc.
You can assign different access categories to the employees to gain maximum control.
Personalized employee badges can be designed and printed according to your preferences.